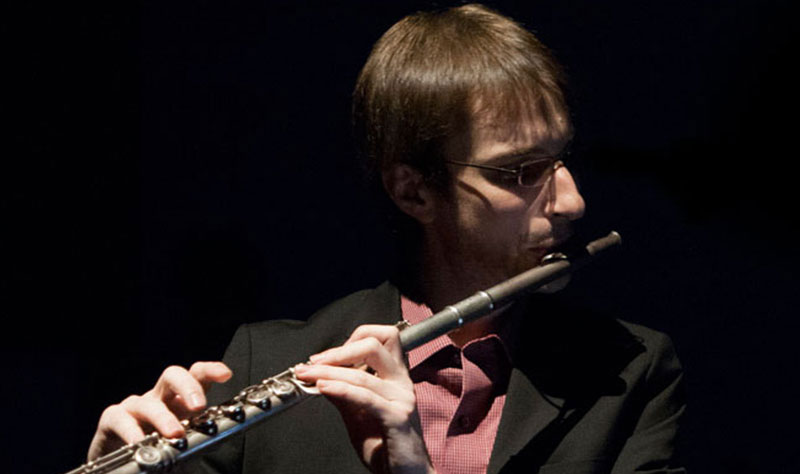 Guillermo Laporta is a graduate of Royal College of Music of London and along his career as a flutist, he has performed a broad repertoire of symphonic, opera and chamber works, with the BBC Concert Orchestra, Asturias Symphony Orchestra, Oviedo Symphony Orchestra, Euskadi Symphony Orchestra, sharing the stage with renowned musicians such as Sir. Roger Norrington, Andrew Litton, Pablo González, Vladimir Ashkenazy, Truls Mørk, Natalia Gutman, Labèque Sisters, Ainhoa Arteta, Jiri Barta or Heinrich Schiff.
As a composer and sound designer he has worked in numerous iOS, Android and Facebook application and games like, The Dreamsons, Alice, Letris, Numtris, Sagecity, Iberia Flying around the world and Blupt with important companies like Unboring, Barrabes Internet and Ivanovich Games.
As projection and set designer recent New York theatre credits include: Boogie Stomp, Not Your Mamas Fair Tale, Pedro Pan, 8 million protagonist, A Christmas Carol and The Baltimore Waltz
UPCOMING PERFORMANCES
Jun 13th
7.30pm
Carnegie Hall with the New York International Chamber Orchestra
Jun 27th
8.00pm
Washington Square Music Festival
Nov 18th
7.00pm
Bay Ridge Concert Series
RECENT PROJECTS
CD: Debussy and Respighi Violin Sonatas Transcribed for Flute and Piano
Josefina Urraca & Guillermo Laporta
Date: May 5th, 2017
This CD, with its ardor for the 19th century and the beginning of the 20th century, reimagines the music for violin and piano of Claude Debussy and Ottorino Respighi, expanding it into the repertoire of the modern flute. The recordign was made in the Summer of 2016 at Oktaven Studios, New York City.
Mikado
Mikado is a piece for flute and electronics commisioned to Spanish composer Marcos Fernandez.It was premiered at the CreArt Music Series on Novemebr 4th 2016.
CreArtMusic Series
My role: Curator & producer
Running since September 2016 in Manhattan, this music series presents classical chamber music with new pieces by living composers and visual artists, collaborating with renowed artist such us violinist Todd Reynolds, composer and video artist, Luke DuBois, or LeTrain Bleu Ensemble.
More info at www.creartbox.nyc/series
Visuality
My role: Director, designer, flutist & producer
Presented at the Queens Theater in The Park, The Tank and more
Visuality is a production, combining the music of composers like Sebastian Currier, Joshua Penman, Debussy, Paul Moravec, Jacob TV, Joan Tower, Marcos Fernandez and Frederic Rzewski, with video mapping projections, aerial acrobats, and dance, fused with the story of a psychoanalyst, who explores the deepest thoughts of his mind through the music.
PAST PROJECTS
NOCTUM
My role: Projection & Set Designer
An opera commissioned by Cre.Art Project during the artist residency program in Oviedo Asturias. Co-produced by Cre.Art Project, Audiencia Theater, Barakaldo Theater and San Francisco Concert Hall.
London
My role: Director, designer, & producer
A musical theater production with more the 100 artists involved. Combining cinema and live theater with live jazz, drum & bass, indian, classical music, contemporary dance, acrobats, video mapping and narrative. A show that makes the city of London, its frenetic pace and its people from all over the world, their common thread. Cinema, theater, dance, circus and live music come together in this show with 18 artists on stage.
Seven World at Queens Theater
My role: Projection & Set Designer
Presented at the Queens Theater in The Park
An journey through science, technology, food and nature.
Evergreen
My role: Projection & Set Designer
Presented at the City Playhouse Theatre, Toronto
Sempreverde/Evergreen has a pressing and compelling rhythm, a good mix of professionals, among whom two young dancers, who captivated the nearly 3,000 students, and their teachers and parents, from beginning to end. No distractions, attentive eyes, their breaths held tight, all children were fully enraptured and fascinated by the modern scenery, the stunning 3D projections, the choreography and the songs of the musical.
Inspirit
My role: Composer & Sound designer
Publised for webVR iOS, Android
I N S P I R I T may seem to be a story about light, but it is really more about people. People who enlighten us and complete us; because I like to think that there are people whose presence lights us up inside.
Puzzle Rain
My role: Projection & Set Designer
Published for HTC Vive headset
Press Quotes: "impeccable sound design by Guillermo Laporta" Casey Yee, Mozilla Blog
Puzzle Rain is a musical journey in which you help awaken and guide mythical creatures back together into happy musical harmony with one another. Only their combined musical chorus can summon life-giving rain to revive the parched and desolate landscape. Though, there isn't much time. Dangerous predators roam!
Pedro Pan
My role: Projection & Set Designer
Presented at the New York International Fringe Festival, 14th Street Y Theater, New York
Based on the real life events of Operación Pedro Pan, a young boy, Pedro, is sent alone to the U.S. to escape the dangers of 1962 Havana, Cuba. Once in NYC, Pedro must face learning a new language, a new culture, and a new country without the support of his parents.