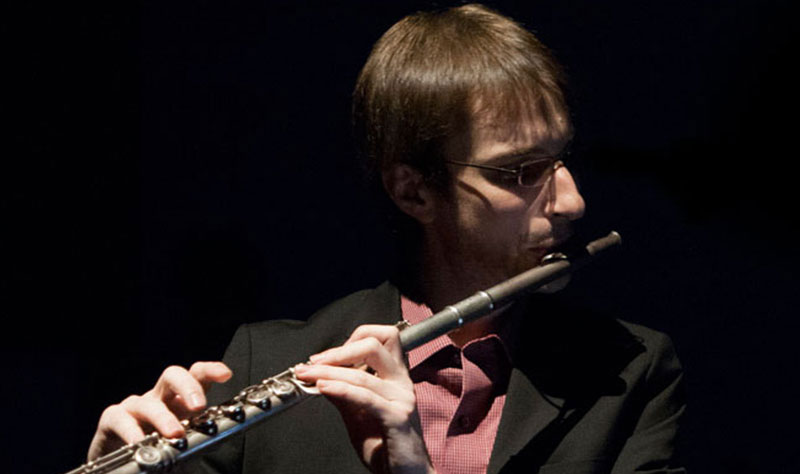 Guillermo Laporta
Soloist, performance designer, producer, curator, as well as founder and artistic director of CreArtBox.
Alongside his career as a flutist, he has performed most of the major symphonic and opera works with BBC Concert Orchestra, Asturias Symphony Orchestra, Oviedo Filarmonia, Euskadi Symphony Orchestra. For two seasons, Laporta served as Principal Flute with the Oviedo Filarmonia.
Laporta has recorded for labels such as Warner Music, Naxos, and Farao Classic, sharing the stage with world/class musicians such as Sir. Roger Norrington, Andrew Litton, Pablo González, Vladimir Ashkenazy, Truls Mørk, Natalia Gutman, Labèque Sisters, Ainhoa Arteta, Jiri Barta or Heinrich Schiff. He has performed in some of the most recognised European venues, Lincoln Center, and Carnegie Hall.
Guillermo Laporta is a graduate of the Royal College of Music of London, and has studied with Jaime Martin, Paul Edmund Davies, Sue Thomas, Aurele Nicolet and Wilbert Hazelzet.
Advocating the expanse of the flute repertoire, he composes original music for flute and electronics and has recently released an album with pianist Josefina Urraca, presenting the first recording of Debussy and Respighi violin sonatas transcribed for flute and piano.
A deeply committed performance designer, Laporta continuously researches and develops new visual ideas to create dialogue between the space and the music.
His projection designs have been presented in Canada, the US and Spain at the Here Arts Center, Fringe Festival, 14th Street Y, Le Poisson Rouge, Queens Theatre, PS122, developing 3d video mapping techniques, real time video interaction with music and augmented reality projects. Recent New York theatre credits include: Boogie Stomp, Not Your Mamas Fair Tale, Pedro Pan, 8 million protagonist, A Christmas Carol and The Baltimore Waltz with review like: "Guillermo Laporta knows how to design for a festival, with minimal set and outstanding projection" (NY Fringe Festival).
He is a self-taught coder, web designer, and graphic designer with a portfolio of hundreds of projects and experiments. Since 2010 he has collaborated with the multimedia studio Unboring, specialized in WebVR where he integrates his music in virtual reality environments and applications for iOS, Android, and Facebook applications and games like The Dreamsons, Alice, Letris, Numtris, Sagecity, Iberia Flying around the world, and Blupt.
Guillermo earned a Master´s Degree in Arts Management from Alcala University in Madrid and has worked for the recording label EMI Music as managing director of the Jazz in Blue Festival in Spain, working with some of the best-selling Blue Note artists such as Avishai Cohen, Joe Lovano, Kurt Elling, and Chano Dominguez among others.